Stabil szak-és intézményi preferenciák, fővárosi dominancia, gazdasági, pszichológus, orvosi, és jogi képzési orientáció, növekvő érdeklődés néhány műszaki, csökkenő több bölcsész pálya iránt – ez jellemzi a legkiválóbb érettségizettek továbbtanulási döntéseit.
Immár fél évtizede jelentetjük meg azt a speciális hallgatói kiválósági rangsorunkat, amely a nappali (osztott és osztatlan) alapképzésen továbbtanulók legjobb eredményű tíz százalékának a képzési hely és képzési irány választása alapján készül. Két szempontból is mértékadó ez a rangsor. Egyfelől az igen magas pontszámot elért hallgatók valódi piaci visszajelzést adnak az egyetemek kínálatára, hiszen ők valóban válogathatnak az intézmények és szakok között, másfelől az ő esetükben a nyelvvizsga, emelt szintű érettségi, középiskolai versenyek eredményei jelzik, hogy többségük értékválasztása, pályaorientációja, munka-tudatossága kiforrottabb lehet.
Az idén 4135 ide tartozó felvettből (akik legalább 453 pontot értek el) kimagaslóan sokan, 695-en választották a BCE Gazdaságtudományi Karát. Ez a szám közel háromszor akkora, mint a negyedik helyezett ELTE Bölcsészettudományi Karé, de a második BME Villamosmérnöki Kar vagy a harmadik Semmelweis Egyetem Általános Orvostudományi Karánál is több, mint két és félszer nagyobb. Összességében is minden hatodik magas pontszámú diák ezt a kart választotta. Az ide felvett összes diák (1495) között 46,5%  tartozik a legjobbak közé, ami ugyancsak messze kiemelkedő érték a nagyobb felvett létszámú karok között: az ELTE BTK 1498 bekerült hallgatójának 16,6%-a, a BME VIK 1235 21,9%-a tartozik a TOP10%-ba. Magasabb arányt a SE ÁOK produkált, hiszen itt 69,9% az arányszám.
kar
(azokat a karok, amelyek 11 év alatt legalább 1%-kal részesültek a TOP10% hallgatókból
TOP 10% felvett
arány a TOP10%-on belül
arány a felvetteken belül
1. BCE-GTK
695
16,1%
46,5%
2. BME-VIK
271
6,3%
21,9%
3. SE-ÁOK
267
6,2%
69,9%
4. ELTE-BTK
249
5,8%
16,6%
5. ELTE-PPK
192
4,4%
32,1%
6. BME-GPK
183
4,2%
30,3%
7. ELTE-ÁJK
157
3,6%
29,1%
8. ELTE-TTK
156
3,6%
18,5%
9. BCE-TK
134
3,1%
28,5%
10. ELTE-IK
105
2,4%
16,3%
11. BCE-KTK
98
2,3%
49,0%
12. BME-VBK
92
2,1%
25,2%
13. DE-ÁOK
88
2,0%
30,6%
14. ELTE-TÁTK
73
1,7%
12,0%
15. SZTE-ÁOK
68
1,6%
29,8%
16. PPKE-BTK
66
1,5%
8,5%
17. KRE-BTK
65
1,5%
8,1%
18. PPKE-JÁK
56
1,3%
15,1%
19. DE-BTK
46
1,1%
7,4%
20. SE-FOK
42
1,0%
42,0%
21. BME-GTK
41
1,0%
5,8%
22. SZTE-BTK
41
1,0%
8,7%
23. SZTE-TTIK
39
0,9%
3,7%
24. BME-TTK
38
0,9%
44,2%
25. BGE-KKK
36
0,8%
4,3%
26. BME-ÉPK
33
0,8%
12,7%
27. BGE-KVIK
29
0,7%
3,0%
(Forrás: OH adatszolgáltatás 2018)
Miközben a BCE GTK kiemelkedik a többi kar közül, intézményi szinten az ELTE, a BCE és a BME vonzereje a meghatározó. A fővárosi tudományegyetem nyolc karából hat a rangsor első 15 helyének valamelyikén szerepel, összesen 1057 TOP10%-os felvettel, mögötte a BCE 927 és a BME 688-cal. Azonban az ELTE fölénye a nagyobb hallgatói létszámmal is magyarázható a kiválóság mellett, hiszen itt hatezernél is több továbbtanulót vettek fel, míg a Corvinuson 2166, a Műegyetemen pedig 3827 alétszám. Ha tehát arányosítva tekintjük, akkor a BCE állna az élen 42,8%-kal, amit a nagyobb hallgatói létszámú egyetemek közül a Semmelweis 28,7, a BME 18 és az ELTE 16,9%-kal követ. A legnagyobb arányban az Állatorvosi Egyetemen vannak a kiválóak (45%), de ott ez mindösszesen 63 diákot jelent a 140-ből.
Az intézményi szintű összevetés ugyanakkor azt is mutatja, hogy nem változott a rendkívül jelentős regionális koncentráció. Budapesti intézménybe került be a TOP10% több, mint négyötöde (!), s ha ehhez Debrecent (5,8%) és Szegedet (5,45%) is hozzávesszük, akkor látszik, hogy ez a három város jelent perspektívát a legjobbaknak. De megfordítva is hasonló a kép: a legjobb diákok felét hat város (Budapest, Debrecen, Győr, Nyíregyháza, Szeged, Miskolc) középiskolái adják, ezen belül is fővárosi gimnáziumból érkeznek ezerháromszáznál is többen, tehát egyharmadnyian.
Ez a polarizáció meglehetősen stabilnak tűnik 11 év távlatában is. A BCE GTK első helye egyre nagyobb arányban vonul végig az időszakon, különösen a 2008-2010-re jellemző 14%-os átlagok utáni 2012-es "mélypont" után (ekkor a legjobbak közül 10,8% jutott be ide, a második helyezett  ELTE BTK 9,8% ezt megközelítette), hiszen folyamatos emelkedéssel idén 16,1% a részesülése a Corvinus ezen karának – míg az idei második, a BME VIK 6,3%-át nyerte meg a kiváló hallgatóknak. A TOP10%-os hallgatók majd háromnegyede összesen huszonöt egyetemi kar között oszlik meg, míg a többi egynegyed 111 kar között (2008-ban az 70,5%, 2018-ban 72% ez az arány)! Ennek a vezető huszonötös csoportnak az összetétele is alig változott ebben az időszakban, két intézményt kivéve ugyanazok a karok alkotják. Érthető tehát, hogy a tudományegyetemi és fővárosi túlsúly is állandósult.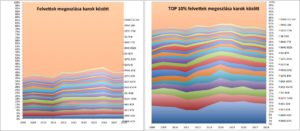 Ezen belül azonban megfigyelhető néhány jelentős változás. Ha az évtizedes távlatot vizsgáljuk, akkor a műszaki karok kiemelkedő növekedése látható, mind a kiváló hallgatók számát, mind a részesülésük arányát tekintve (ELTE IK 58-105, 210%; BME GPK 102 – 183, 208%; BME VBK 63-92, 169%; BME VIK 195-271, 161%). Jóval kisebb létszámmal, de impozáns növekedéssel négyszerezte (!) meg a kiváló felvettek számát a Pázmány jogi kara, míg a Semmelweis és a Debreceni Egyetem általános orvoskara közel másfélszer annyi kiválóságot vonzott. Az ELTE Társadalomtudományi Kara mind a létszámban (135%), mind az arányban (1,1-ről 1,57%) erősödött, ami azért is figyelemre méltó, mert a legnagyobb csökkenéseket éppen a társadalomtudományi-bölcsész területeken tapasztalhatjuk. A Corvinus Társadalomtudományi Karát kevesebb, mint a 2008-as létszám fele választotta ebben a hallgatói körben, de ennél is látványosabb a BCE-n kívüli gazdasági képzésekben (BME GTK, BGE KKK, KVIK) a jelentős csökkenés, negyedére, ötödére a 11 évvel korábbinak. Mindezek mellett a korábban egyértelműen kiemelkedő létszámú és arányú ELTE Bölcsészkar vesztesége jelentős, feleannyian jöttek csak ide a TOP10%-osokból, a részesedése is 5,8%-ra csökkent 9,5%-ról. A tendenciák nem mutatnak más képet akkor sem, ha a felsőoktatási továbbtanulásban jelentős finanszírozási és kommunikációs váltást elindító 2012-es évhez viszonyítunk (az ELTE BTK esetében még erősebb a csökkenés aránya), egyetlen kiugró különbség a BME Gépészkarának adatsora: míg 2012-ig (sőt, folytatódva 2014-ig) egyértelmű és dinamikus növekedést látunk, addig az elmúlt négy évben csökkent mind a létszám, mind a részesedéi arány.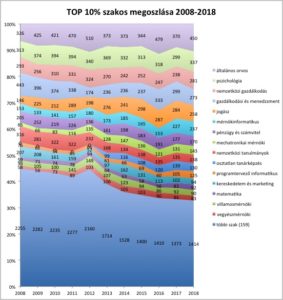 Mindezen folyamatokat nagyban befolyásolja a szakok, szakterületek vonzerejének változása, ami a legfőbb indikátora az egyes intézmények iránti hallgatói érdeklődésnek. Mivel 2012-ben a gazdasági-társadalomtudományi képzési helyek állami finanszírozásának drasztikus csökkentésével lényegében összeomlott az olyan, amúgy népszerű szakok keresettsége a TOP10% körében, mint a turizmus-vendéglátás, kereskedelem és marketing, nemzetközi tanulmányok, kommunikáció és média, az ezt követő időszak visszaépülése ellenére is ma csak az egy-két ötöde a létszám a 2008-asnak. A bölcsészeti-társadalomtudományi irányok jó része (történelem, szabad bölcsészet, politológia) esetében hasonló a változás mértéke, azonban különbözik a dinamikája: itt ugyanis folyamatos a csökkenés, fordulat nélkül. A hallgató választásainak differenciáltságát mutatja, hogy ugyanakkor a nemzetközi gazdálkodás, a jogász, gazdaságelemzés szakokon kiemelkedő bővülést látunk. A reálterületeken pedig egyértelmű a fordulat a korábbi évekhez képest: mechatronikai mérnöknek, programtervező informatikusnak, vegyészmérnöknek, matematikusnak, gépészmérnöknek, gazdaságinformatikusnak,, de még általános orvosnak is lényegesen többen kezdenek el tanulni a legjobbak közül, mint a múlt évtized végén – bár néhány esetben itt az elmúlt öt évben negatív tendencia indult például a vegyészek, gépészek között. Az osztatlan tanárképzés 2013-as indulása óta fokozatosan nő az ide tartozó mintegy száz szakpárra bejutó magas pontszámúak száma, aminek révén ma már elérik a 3%-át ennek a körnek, s ez a nyolcadik legmagasabb arány.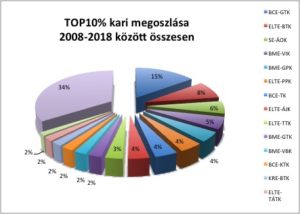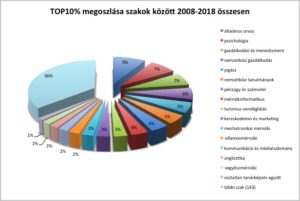 Összegzésünk nem különbözik a tavalyi elemzésünkétől: továbbra is mind regionálisan, mind szakterületi megoszlásban, mind intézményi oldalról folytatódott a felsőoktatási hallgatói kiválósági kapacitások koncentrálódása. A műszaki és orvosi reál-szakok minőségi vonzereje megnőtt, de a tendencia néhány esetben megtorpanni látszik, viszont a természettudományos szakokat a matematika kivételével kevesebben választják a  kiválóságok közül. Ha együtt tekintjük azt a félszázezer fiatalt, akik generációjuk legjobbjai voltak az elmúlt bő évtizedben, akkor kisebb átrendeződésekkel, de stabil érdeklődési prioritásokat látunk mind az intézmények, mind a szakok tekintetében: minden hetedik TOP10%-os továbbtanuló a BCE GTK-t választotta, többen, mint a második ELTE BTK-t és SE ÁOK-t együtt. A szakok listáját folyamatosan az általános orvosi és pszichológiai képzés vezeti, miközben több bölcsészeti, gazdálkodási szak iránt csökken a legjobbak érdeklődése.
Dr. Fábri György
kutatócsoport vezető,
ELTE PPK