Prof. Fábri: "Rankings are media phenomenon of the postmodern mass democracy."
 Mr. President, Dear Colleagues!
I welcome you in name of Hungary's oldest and most competitivness (based on ranking positions too) research university.
It is a great honor to us that the we should be member of the International Ranking Expert Group – Observatory, one of the most important global organization of higher education. This membership offer for us a chance to learn about new viewpoints, methods, impacts of university rankings. I hope, you can also use results of our own researc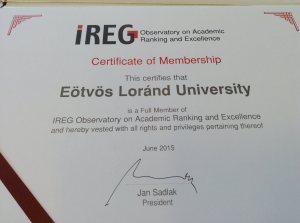 h and experiments about the ranking-questions.
My institution not only observes and evaluates it's ranking positions, but also analyzes such results trough the work of our special research group established for this purpose. The most well-known Hungarian university ranking are also the achievement of this team's work.
Our research on fields of social psychology, sociology, philosophy of sciences and social communication serve for us the theoretical background under which we interpret rankings and their effects on universities.
Read more IREG Forum 7, Aalborg University – Introduction a new member: the ELTE! ›