OUR MISSION
for students, academic staff and management, experts, policy-makers, stakeholders…
ABOUT US
Who we are and what we do?
Our ranking project contains empirical and theoretical research, as well, examining the social and communication background of rankings in the theoretical frame of several fields, such as social psychology, pedagogy, communication theory, higher education management and scientrometrics.
These projects are carried out by our Social Communication Research Group at the Faculty of Education and Psychology in Eötvös Loránd University, the leading university of Hungary. The chair of our Research Group is Dr. habil György Fábri PhD, associate professor of ELTE. He launched the first Hungarian university ranking (UnivPress Ranking) in 2001, and later served as Vice President of ELTE for five years (2010-2014). He published lot of articles and a monograph about higher education rankings.
The UnivPress Ranking is published in the most popular Hungarian weekly magazine every year. We provide national rankings using students' and teachers' data including all Hungarian higher education institutes.
We also offer undergraduate, graduate and PhD courses in this field at Eötvös Loránd University (Budapest, Hungary).
The positions of faculties show a very stabile tendency: on the first ranking places we find the leading universities of Hungary's capitol. The No. 1 is the Corvinus University of Budapest Business School, since 2012, but in this period the other members of the TOP10 are similar too: three institutes (Faculty of Humanities, of Education and Psychology, of Law) belong to Eotvos Lorand University, three (Faculty of Electrical Engineering and Informatics, of Mechanical Engineering, of of Chemical Technology and Biotechnology) belong to Budapest University of Technology and Economics. And the latest results: (more…)
Recent from
(H)UNIVPRESS RANKING
Recent from
ANALYSIS
What is happening in the field?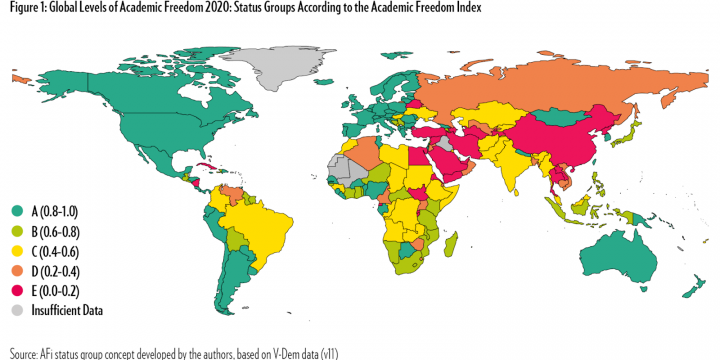 Academic Freedom Index (AFI) was published on March 11 for the second time since it's launch in 2020. AFI is a collaborative initiative of researchers at Friedrich-Alexander-Universität Erlangen-Nürnberg, the V-Dem Institute, the Scholars at Risk Network, and the Global Public Policy Institute to measure the degree of academic freedom of the countries of the globe. The index consists of five indicators on academic freedom, each of which is coded by country experts on a predefined scale from 0 to 4 and on a country-year basis: the freedom to research and teach the freedom of academic exchange and dissemination the institutional autonomy of universities campus integrity the freedom of academic and cultural expression The second edition of the openly available data is based on contributions by almost 2,000 country experts from…
Recent from
RANKING MONITOR
What is happening in the field?